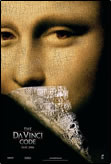 "The DaVinci Code" –
Tom Hanks, Audrey Tautou, Ian McKellen, Jean Reno, Paul Bettany

I almost never read books and then see the same on the silver screen, but I have read all of Dan Brown so this was broke that guideline. I had heard it panned in reviews and was curious. Aside from a few liberties than Ron Howard had to take to put it all together, it really stayed true to the book and that is to his credit. I was actually amazed he was able to cover so much ground in such depth in such a short time. My favorite character was Ian McLellen, he made the movie. Of course seeing the albino monk, Paul Bettany, with a celice strapped to his leg and watching him beat himself daily was pretty horrendous and effective. I wonder again about the reality of that order Opus Dei and the practices they encourage. I would have liked a bit more romance, I know it wasn't in the book either but I was optimistic, maybe the next book cum movie. Surely they will follow this up with another mystery starring Hanks as Robert Langdon and finding a way to include Audrey Tautou as Sophie Neveu. As much as it followed the book, it lacked a certain necessary mystery and romance to be a five star for me. Maybe reading the book made it predictable, not sure, but if they do a sequel so to speak, I hope it goes further and deeper.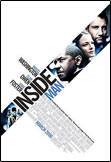 "The Inside Man" – Clive Owen, Denzel Washington, Jodie Foster, Christopher Plummer, Willem Dafoe

How can a cast of such talent create such rubbish? Okay so the robbery idea was somewhat novel: a team of robbers enter the bank and force all in the bank out of their clothes and into jumpsuits to match the thieves. While the lead is left behind, concealed in a wall, the rest walk out of the bank with everyone else completely unidentifieable. Clever, yes, but I didn't see enough of Owen to make it worthwhile. Jodie Foster seems to have the same expression on her face no matter what she is doing and it isn't pretty! I expect so much more from this Oscar Winner. Washington seemed to be doing some sort of black cop walk and talk with an affected wardrobe of light suits and hats, what was that? It didn't fit the film or his character at all. Dafoe had much too small a role or is just much too big a player to be so thwarted. Plummer these days seems to play the aging bad guy concealing his past. Having met him, this seems apt. He is not a "nice" or "gracious" man and in fact I haven't been able to look at Sound of Music since having dinner with him some 25+ years ago. I just couldn't wait for it to end and would not bother with a similar cast again.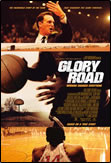 "Glory Road" – Josh Lucas, Derek Luke, Austin Nichols, Emily Deschanel

In 1966, Texas Western coach Don Haskins led the first all-black starting lineup for a college basketball team to the NCAA national championship. WOW! This is a really great story, from the challenges of coming from coaching a winning girl's basketball team to taking over a losing team in the middle of nowhere El Paso Texas in the sixties. Haskins has a goal to load the team with talent regardless of where from, and their color. He is blind to what the rest of the world and the NCAA is not. But he does put together an incredible roster and best of all learns from them as much as they learn from him. This is a coach and man with more heart than ego and realizes that to win they will play his way but with some of their own unique gifts as well. Seeing the racism they encountered was a reminder of how far they have come and how backwards many places still are. What was most fascinating was to see what each had gone on to accomplish as the credits rolled. Lucas as Haskins did a great job, and Deshanel as his wife was supportive and every inch the sister to Zoey. This is an old fashioned, feel good, leave it cheering movie!