I was scheduled to speak at the National Kitchen and Bath Expo in Valley Forge and they included my stay at the Radisson. Usually this would have been very uneventful and hardly worth sharing, but this trip was a bit different. The first room they had me in was in their smoking wing, I didn't even know that was still possible, but it was.
Since I am virtually allergic and my voice had been a bit tender anyway, that wasn't going to work. I returned to the front desk and asked about another room. They upgraded me (a loose term, I assure you) to the Queen Suite. This was on the 15th floor; I was instructed to take the elevator to 14 and walk the private staircase (luggage in tow of course) to the exclusive themed suites on 15.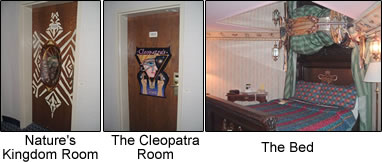 I was a bit suspicious when I started down the hall to see a door with a Cleopatra image, another with a Gilligan's Island poster attached to its exterior, but I ventured on. The Queen Suite had a shield on the door. It opened to an open vanity with a water closet and shower in a peculiar raised closet. Moving into the bedroom, I passed through a coppered opening, and entered a room with a pink ceiling, traditional colored bedding and pink chairs. Oh my! I had never slept in a bed with a mirrored ceiling, with angels fixed atop, what I can only describe as, a partial canopy. Directly facing the bed was the amazing pepto-bismol pink tub with full mirrors. There was no window visible anywhere in the room, I am guessing it was concealed behind the bed, I am not really sure.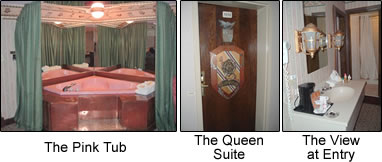 Evidently this hotel has a host of these themed rooms. With a full house, I could only see mine, but I know you will be sure to share the tale of any of your themed room adventures.
Travel well and beautifully,
MG