Have you ever met someone at a networking event and when you asked for their business card they began apologizing? They made some excuse like they were waiting for their logo or they were new in business and didn't yet have their business name confirmed? These are irrelevant factors to success. When I hear the excuses it makes me cringe because what I'm really hearing is that the person I'm talking to isn't ready for success. They are instead setting up obstacles and hurdles that aren't real; the are using excuses instead of action and falling behind instead of leaping ahead.
There are many excuses you might be making to stall your success, the top five I hear are:
#1 "I don't have a logo"
Response: So what? Who does business with a logo? People do business with people. Hiding in your office or home because you don't have a logo is wasting a lot of time. Your business success is in no way related to your logo or lack thereof. It is related to your ability and willingness to take targeted action.
#2 "I don't have a business card."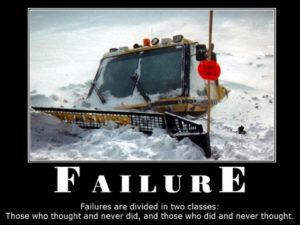 Response: There are only two reasons not to have a card, one is you are already so successful and your clients find you without one. The second reason is that you just don't want to provide your contact to the person asking (totally okay by the way.) Otherwise whether your card is your own, your company's, or one that indicates you are seeking a new challenge (unemployment is not an excuse for not having a card) you must have a card. And no you can't use the free ones from Vistaprint that is tacky. You can pay the $25 to have Vistaprint do your cards and leave their free bit off the back.
#3 "I don't have a website."
Response: This is kind of like not having a business card today. In an age where it takes just a few hours and less than a couple hundred dollars to put up a web page, if not a full site, there is no excuse. Are you serious about your business? Or do you want to keep it a best kept secret? You don't have to be tech savvy, you just have to know who is.
#4 "I'm working on my mission statement."
Response: I'm not buying your mission statement, I'm buying your products and/or services. While a mission statement is important for you to form and know, it is far less important for you to share with anyone else. Walk your talk, instead of getting hung up on talking your talk. Mission statements are all too often overblown hyperbole that means nothing, get over yourself, get on with business. Be your mission and stop talking about it.
#5 "I need an office."
Response: No you don't. Many have started from their basement, their closet, their dining room table, a back alley or less. Today, there are all manner of people doing business from Starbuck's, Caribou Coffee, Barnes and Noble, and other retailers. Don't let the where stand in the way of your why.
Now if you are making any of the excuses detailed here, please feel free to get in touch, let's get rid of those excuses now and moving forward. You really do have to get out of your own way to let success in. Oh and if you need resources that will get you there sooner, allow me to share my Six Figure Rolodex of recommended, tried and true providers.
Oh, and always I want your comments, your feedback, and your excuses!