Recently I visited a series of Designer Showhouses.  The point of these showhouses is threefold:
To sell the house.
To sell the designer.
To sell the furnishings, accents, accessories, lamps and more.
In this case, the marketing company that put this together did their level best NOT to sell anything! It was truly one of the most unique experiences I have had. It began with having to hunt for the location. As in I couldn't find the address on the website, just directions that without a street address, left me unable to effectively GPS it. That meant that we (I was with a colleague) went into the first entrance we could find only to see the empty backside of all signs. (Kind of like one of those vacation in the back of the station wagon facing the opposite direction!)
#1 Rule in Marketing: Be EASY to Find.
Visibility means profitability, if your audience can't find you, they can't buy from you.
Funny thing is that once we turned around and followed the arrows we didn't fare any better. Finally we gave up and simply headed for the last house, parked outside and walked in.
The first sign at the house we saw said "NO PHOTOGRAPHY." Really? Are you kidding? In this social media age of photos of everything you are telling me you don't want me to share a house, the furnishings, the design, the builder, the details, the landscape, etcetera, etcetera, etcetera. This truly blew my mind.
#2 Rule in Marketing: Encourage Your Market to SHARE About You in Pictures, Video, Updates, Email, Text and more.
When you prohibit sharing, you are blocking your own sales and profitability.
Telling me I couldn't take pictures instantly made me start looking for WHY NOT? And I soon found it.
While certainly there were some well designed, inviting spaces provided, there were also some amazing gaffs in the architecture, building, and design stages. It got to be a game to see how many we could find. (Now, imagine if the sign instead had said "Share Your Favorite Rooms on Facebook, Twitter Your Top Trends Spotted."
The first HUGE gaff was noticed in more than one bathroom, in fact in the master bathroom of one of the three properties. Over the vanity was a large window, too large to allow mirrors to be placed appropriately and necessarily over the sinks. Hmm, bad design? Nope, this was a flaw in the architectural plan, and not caught by the builder. YIKES.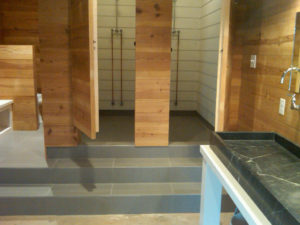 Next up was a cute bathroom with lockers, cool concept but using stairs to get up to the showers and down. That sounds and looked incredibly unsafe to me, even if it was kids and teens using it. I "found" a picture here.
#3 Rule in Marketing: Tell Your Market WHAT to Share.Train Your Prospects to Become Clients.
It isn't enough to encourage your market to share, you have to coach (tell) them WHAT to share. Train them to look for the right things that will lead them to a positive experience and closer to buying. Train your prospects to become clients and customers.
When you are trying to sell multimillion dollar homes in a down market, it seems logical that you'd want to engage potential buyers on every front. I mean we are in the multimedia age and yet these houses were look only, no sound, no scent, no taste, okay a little touch. We all have ADHD squared today and if you don't capture our attention on multiple fronts and with multiple sensory experiences (even if in writing as in "imagine the smell of chocolate chip cookies") you are going to lose us.
#4 Rule in Marketing: Engage All Senses to Make a Sale
Now I know what you are thinking. As a coach how on earth can you do that? Sure as a designer that makes sense. What about as a speaker or a sales rep. It's all in your semantics. Use sensory language to build a multi-dimensional experience of what it is like when your client buys your services. (Imagine feeling healthy, fit, and sexy; you'll look great; you'll hear lots of compliments; you'll smell the sweet scent of success because you gave up your taste for sugar and hunger for nutritious and delcious foods instead) You get the idea . . .
Half way through the first house, a man came rushing in and asked if we'd checked in at the Welcome Center. We politely explained that we never saw that and he admitted that many others had the same problem. (Hmm, maybe that's a clue they should make some changes.) He asked that we go and check in when we were done at this house. What was the incentive? NONE. We didn't.
I'd already paid for tickets that I never had to show. Oh and I didn't even get the receipt promised. There was a GOLDEN OPPORTUNITY missed by no follow up in email with a special offer or perhaps a Value Voucher (beats a discount) for a free dessert at lunch or something. We never did see the clubhouse.
#5 Rule of Marketing: Never Miss a Chance to Thank Your Prospect and Give Them Greater Value.
The rules learned on this misadventure are valuable for every business. Take a close look at yours and make sure that you haven't broken one of these. Always love to hear about your marketing adventures!