Got some awesome lessons in customer service during a recent stay at The Hotel Palomar in Chicago. First I should say that I am a sucker for modern luxury hotels, however with a business degree in hospitality management I am also a stickler for details and pay close attention to service. They began with a poorly designed entrance, too far back from the street for you to see it easily if you got dropped at the corner by a taxi, like I did. I actually had to call the front desk to find out where the front door was since I could see only the restaurant entrance and not the hotel. I was frustrated and a bit tired from travel, but persisted.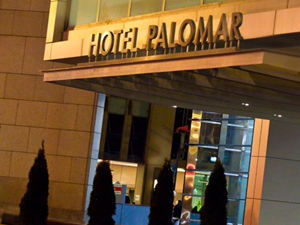 With no bellman available (that was the only time that happened, but it was noticeable) I hauled my luggage inside and had to stand at the front desk while the clerk was checking something or completing another transaction.  Hmm, customer service fail here.  She didn't look up or acknowledge me until she was ready (major oops). By this time, I was visibly irritated. I got checked in and headed up. It improved when I found I was, as requested, at the top of the hotel, a very quiet room (away from the elevators and vending), and bonus to be near the workout center that I planned to use daily. Okay, they were turning it around.
I tested them further by requesting extra hangars from housekeeping which arrived promptly (a request like that has been known to be completely missed.) Customer service kudo!  The room was well appointed, and I noted only one burned out lightbulb (I did say I was a stickler) that I reported to the front desk and it was replaced by the time I returned from my first meeting. The convenience of the workout center being on the top floor instead of buried in the basement was greatly appreciated and saved a lot of time going up and down the elevators. Windows and a workout is always a winning combination.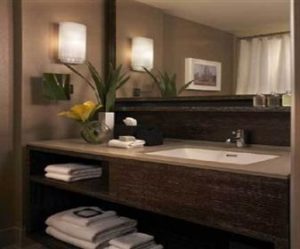 The bath was beautifully designed with a shelf above the vanity, the perfect place for any female traveler to line up her bath needs, organize makeup and allow counterspace for a room mate when needed.  I also got a kick out of the monogrammed P on the towels that would certainly cut down on pilferage unless your name actually used a P logo.
My first morning, I called room service asking for almond milk, since the best they could do was soy (I'm lactose intolerant), they sent up a glass free of charge. Day two, breakfast arrived promptly and was a full charge, Day three they ran late and comped it. So far, so good on customer service.
I ate at the hotel three out of five nights, yes it really was that good. The first night I finished up early and being on East Coast time, I was tired and headed to bed early (9pm. CST). Just as I turned out the lights, I heard a sharp rap at my door. I called out to see what it was and they kept saying "wine." I opened the door and the server presented me with a bottle of wine and a note from the restaurant manager with a thanks for my enjoying dinner in his establishment. It was a lovely gesture, even at that late hour.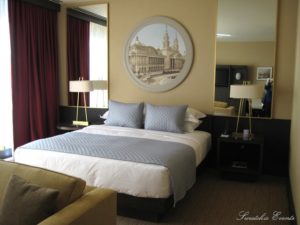 On the second of my stay I needed to order a birthday cake and flowers, at the last minute, for a friend of mine. The concierge was a great help, taking over all of the details and expediting a delicious cake and gorgeous flowers. It got even better when I worked with another concierge to plan my sightseeing and tourist adventures. They presented me all of the options and made all necessary reservations. The one even walked me by phone to the location I needed to get to when I panicked (I have get-lost-a-phobia.)
What they did . . . what you can take away and apply to your business:

When they ran late, they comped breakfast . . . what do you offer when there is a delay to your customer in service or product delivery?
When I showed a genuine interest in their food and beverage they gifted me a bottle of wine . . . what do you do to say thank you to your clients?
The concierge provided VIP treatment to answer travel and gourmet needs . . . do you offer a VIP level of service for your top clients? What do you do for extreme client care?

When I panicked on my way to a specific destination, the concierge patiently stayed on the phone with me and walked me there . . . are you walking your clients through potentially confusing processes and implementation?
Overall, they ensured that I'd be likely to make a return visit. The positives outweighed the negatives though I did ask the horse and carriage driver for recommendations of other boutique hotels with a modern flavor. I tend to be very loyal when everything is flawless. The Hotel did a lot right and needs a bit of work in a couple of areas, like the front desk.  Still valuable lessons in customer service and how to win customers and influence clients (aka guests in this case.)
Tell me what you look for when you travel on business . . .
Any great hotel stories to share?
And always find me on Facebook, LinkedIn, and Twitter and let's connect. Be sure to send a personal invite, never the default.