I have been doing what I call Get to Know You sessions for the last couple of weeks and I've learned a lot about what's working for you as small business owners and professionals and what's not. One of the most obvious goofs I see being made across the board by designers, coaches, speakers, authors, attorneys, and marketing experts is your email address.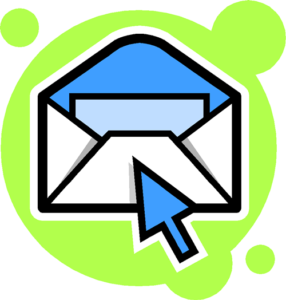 It is so basic that the power of your email address is all too often overlooked. The first thing you do when you get an email beyond reading the all important subject line is to look at who it is from. If that person is unfamiliar to you, you check out the @XXX. If it says only gmail.com, yahoo.com, hotmail.com, aol.com, comcast.net, or any other such generic provider you have lost a golden opportunity to brand your business and yourself.
Take a lesson from the large corporations, most of their email addresses are someone's name or initials @companyname. Why aren't you doing the same thing? Oh, wait, I know you don't have a website. Really? Are you kidding? In this day and age, that is like telling me you don't have a business card, except way more important. If nothing else get a $10 name at GoDaddy and get hosting there or someplace else for $8 a month. Put up an under construction (I cringe when I see this but it beats generic) and grab the email address that will brand you.
Honestly, when inundated with hundreds of emails a day, who do you think will be read first? Those emails that the recipient recognizes easily and quickly or the "unknowns" and generics. That's right, you are fighting for attention today and you need every leg up you can gain, leverage the power of your email address or get lost in the shuffle.
In a perfect world, you will have a website or at least a web page telling us what you do. We will go look. I always check
this out before replying to an unknown email that is asking me to participate in something, contribute to something, be interviewed by someone, buy anything. Today is about the speed at which you can establish your KLT or KNOW, LIKE, and TRUST factor. Having an email address that quickly and easily brands you and provides a way for people to learn more at the click of a button is essential.
Oh, and one more thing, when I see hotmail or yahoo or aol, there is big part of me that thinks you can't afford your own site and are struggling in business. Is that the message you want to send? Get professional, get real, and get branded.
I want your comments and stories about your branding and your email experiences and what you look for! Share here.