Success can only happen when you finish what you start. When you look at the landscape of your business and don't see the success you envisioned, it is because you failed to finish what you started. I know you may want to say, but Melissa, it's because of where I live, or it's because I don't have money to spend on marketing, or it's because I'm too old (or too young), or it's because of the economy. BALONEY!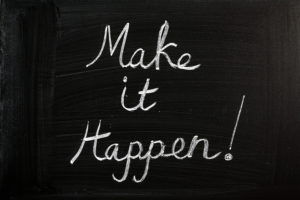 Those are just a few of the million and one excuses I've heard for not finishing what you started. Get over yourself, you are too damn smart to be that stupid and you deserve success. Will you claim it??
There are only 7 Essential Steps to Finishing What You Start. I dare you to take each step here as you read this, don't wait, don't come back to it. DO IT RIGHT NOW! You'll be that much closer to success when you finish reading this. REALLY!
#1 Focus on Just One Thing to Completion
First start with something you are genuinely passionate about.  If you aren't fully juiced you will give up at the first hiccup, let alone, full blown roadblock. So, now that we know you are going to focus on something you love, here's the caveat. You know that BIG HAIRY AUDACIOUS GOAL you are totally tuned in, turned on, and excited about? Well, I'm betting it is made up of at least 3-5 major components each of which represent an individual project in themselves.
You will guarantee failure when you try to "eat the elephant" in one sitting instead of one bite at a time. Scattered focus yields scattered results or worse, no results at all. Pick one piece of it and backburner the rest until you have gotten that one piece to sustainable point of success. Put blinders on to all distractions, focus on one single project, one goal even when it's part of a much bigger goal.
For Example:
If you are a coach and want to have both a thriving group practice as well as hold retreats, and have private clients, you need to focus on one piece of that, not all three in order to move forward.
If you are an interior designer or decorator and you want to have private clients, and you want to launch a line of furniture, and you want to build an online virtual design coaching practice for DIY homeowners, slow it down. Pick one of the three to focus on exclusively until you have built it to a level that you are comfortable with and is sustaining.
If you are a consultant and you want to write a book, launch yourself as a speaker in your industry, and consult with both corporations as well as add coaching for individual executives to your practice, select one as your project and stick to it to completion. NOTE: Yes, writing a book doesn't often bring cash in immediately, it is presumed that you have paying clients!
#2 Build a Full Color, Sensory Vision for Your Single Focus
Yes, this is about visualization. Go into that place in your mind where you create a full sensory experience of how it will look, sound, taste, smell, and FEEL. The feel part is the most important. The more often you can "feel" yourself as if your focus is realized and your goal accomplished, the faster it will happen. Visualization without feeling is a profoundly less effective exercise in mere mental picturing.
At the same time, you want to extend your visualization and feeling to all the steps along the way. Olympic athletes don't just visualize themselves standing on the podium wearing the gold medal. Instead over the weeks, months, and years of training they continually visualize themselves in each practice, in each race, at every competition, through every step that it takes to get to the podium. You can to.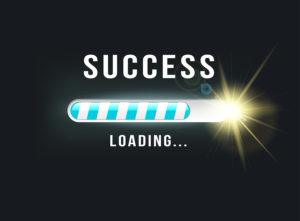 #3 Break Your Big Focus, Your BIG HAIRY AUDACIOUS GOAL, into a Step by Step Process (and Apply a Timeline)
Overwhelm is a choice and not a wise one. The fastest way to tame overwhelm is to identify and define the steps you need to take.  Applying a deadline ensures you have some time urgency and can work backwards from your deadline to the step you need to take right away.
Overwhelm is a by-product of feeling out of control. By taking the time to specify the steps, you reclaim control and can refocus on what needs to happen first, second, third, and so on. When you refuse to organize a project into steps, you will inevitably wind up creating a lot of extra work for yourself and additional unnecessary chaos and wasted time.
#4 Identify the Knowledge or Training You Need to Acquire (If Any) to Complete It and How You Will Get It
You may have all the knowledge you need, or you may need to get additional training. You can leverage the TRIPLETS OF TRAINING being Google, Bing, and Yahoo. YouTube is a personal favorite. Or you can explore paid programs to get the knowledge you need.
Honestly, in the internet age, everything you need is as close as a keystroke. Invest the time to explore, take a trip on the information superhighway, and if one question in your search engine of choice isn't getting you what you want, ask another, and another, and another.
#5 Identify the Resources (Included Outsourcing) You'll Need to Make It Happen
Sometimes you may need a skillset or specialty expert service that is too time intensive to learn and you need to outsource. There are wildly cost effective options including fiverr.com, swiftly.com, elance.com, taskrabbit.com, and too many more to list here. These range from $5 to name your own price and quality varies too (though not always in proportion to price since there is extreme talent available in developing countries for very little investment.)
#6 Stay Focused and Keep Going to Overcome Obstacles and Slay Dragons
You are going to hit a few roadblocks, everyone does. Your success is determined by your reaction. Will you let them derail you or will you double down and get through it? It's your choice.
Dreams don't die for lack of money, or knowledge, or time, they die for lack of passion, persistence, and focus.
#7 Trust Yourself, Believe in Your Ability to Achieve Your Goal
This is actually the absolute critical step in achieving any goal, in finishing anything you start. When you believe you can and take the necessary steps, you will. When you doubt yourself you will lose precious time chasing gurus, experts, and opinions that will only distract you from your goal.
That's it. The 7 essential steps to finishing what you start, now it's up to you. If you took action as you read this, by now, you have a single focus, you have created steps and a timeline, you've identified knowledge and resources you may need, you are committed to conquering obstacles that will appear, and you believe in yourself. YOU ARE UNSTOPPABLE!
COMMENT BELOW ON YOUR SINGLE FOCUS AND HOW THESE 7 STEPS ARE HELPING YOU! If I can be a resource or answer questions, I'd love to.