5 Deadly Ways to Fail Fast and Publicly
Picture this if you will. A high end furniture showroom holds a grand re-opening coming out of a reorganization and launches with a party for interior designers, builders, and developers in Atlanta. The majority (90%) of the attendees are women and gay men. This is only important as it defines the market demographic. The average age of those attending is over forty and it is in a Southern traditional market.
The furniture showroom partners with a local society magazine publication who is known for their flash and sizzle approach and for showcasing local celebrities from the entertainment industry to lifestyle titans. They are also known for high end fashion spreads with scantily clad models, their demographic is 30-45 up and coming entrepreneurs, society mavens, and celebrities. Notice that the magazines demographic is not the same as that of the furniture store whose grand opening it is putting on. This mismatch matters.
Mistake #1 ~ Failing to Tap the Talent You Brought In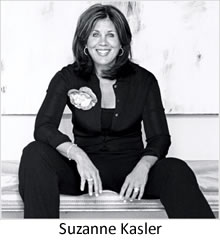 To the magazines credit they did get a local big name interior designer to do a book signing though I think that she would have delightedly done that for the showroom as that is a good fit for her. Sadly I didn't notice a lot of sales going on, but then she was put just inside the very front entrance rather than located in the heart of the event with an opportunity to speak briefly about design, her latest collections, and share a nugget of wisdom or two with an interested crowd of colleagues and wannabes.
Mistake #2 ~ Failing to Have Food that is Bitesize, Easy to Eat, and All Ingredients Disclosed
Scattered throughout the furniture showroom were food stations, of course, and the appetizers were great, but far from bitesize or finger food. In a setting like that attendees are always a bit uncomfortable setting down plates and cups on fine furniture (limited tables tucked into a back area) and without the ability to use forks and knives (not provided) much of the delicious fare was untouchable. This was a bit frustrating, in addition there was the classic challenge of knowing what was in any given item and in this day and age of rampant food allergies, this is a critical.
Mistake #3 ~ Mismatching Your Message and Your Market
The food stations weren't the only thing scattered throughout the showroom. In fact, on at least five of the elegant beds were twenty-something models dressed (hmm, that implies too much coverage) in scanty lingerie provided by a sponsor of the magazine. Remember my mention of the audience demographic? Models of that sort appeal to men at any age except that I'm betting some of the men in attendance had daughters their age and the whole thing was a bit awkward.
Mistake #4 ~ Hiring the Wrong Partner to Put on Your Event
I took pictures because to me it represented one of the biggest market/message mismatches I've seen at a live event in a long while. And it indicated a lack of awareness on the part of the magazine that this market isn't a fit for that. When you partner in marketing, make sure you are both on the same page and understand clearly BOTH the market and the message.
Mistake #5 ~ Forgetting to Start the Sizzle Before You Get Inside
As a designer, I know that we love events with food, fanfare, and famous folks. I also know that we love jewelry, drinks, and great design. In over 15 years in business I have never seen scantily clad models in lingerie at a design event. Fashion absolutely, especially when it includes interior fabrics done up in creative ways or in historical dress, fun and fabulous. This didn't work. And the attendance was less than half of what they'd planned and announced probably because when you drove up the place looked deserted since the valet took all cars either around back or next door despite there being plenty of spaces up front. There was nothing indicating a celebration or grand opening.
Do you want to ensure the success of your next event? Learn tried and true strategies for matching your message to your market and a lot more over at www.superchargesuccess.com. Avoid expensive marketing mistakes and master the art of leveraging social media.
Have you attended poorly organized events in your industry? Dish the details here!