There is a very short answer to this question and it is simply ALWAYS! What I continue to run into, particularly with service based business professionals and creatives (like designers, stagers, and organizers) is a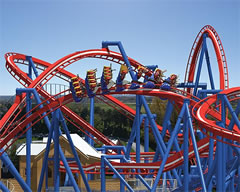 tendency (actually a habit) to have an uncomfortable roller coaster ride of have a full client load and then having not business, then a full client load, and then no business. The whole point to marketing is to even this out and create a regular flow of your ideal clients. It is hard to be going full tilt for several months then have it all come to a screeching halt and create that place of worry and sense of anxiety as you put your marketing hat back on again to refuel your pipeline.
Get your marketing motor running. STOP, instead create a permanent social media marketing system, an all the time marketing engine that has automated parts that keep your prospects engaged and excited until they become loyal clients. At that point, the same system will keep your clients hot and buying for a lifetime of profits and demand. Get off the roller coaster, eliminate the anxiety, and know that by keeping your marketing hat on all the time and your social media engine humming you are continually attracting your ideal clients.
Dive into the smorgasbord of social marketing options. Social media encompasses a huge range of marketing tools, far beyond just the social networks. It includes Twitter, Facebook, LinkedIn, blogging, ezines (electronic newsletter), article marketing, social bookmarking (DIGG, Delicious, Stumblupon, Technorati).  The neat part about these tools is that while it can feel overwhelming when you look at all of them all at once, it is really a buffet of free and low cost options that when you pick the one that taste best in your business you can then implement them appropriately and many can be semi-automated and even fed the same content in different formats to keep your marketing FULL and FLOWING.
Does this sound like you? I was speaking with a talented creativepreneur just last week and she was feeling challenged because just a month ago, her business was running full out. She actually had to turn down clients because she had more business than she could handle. Now, her business has gotten a bit light again and when faced with an investment in marketing skills, tools, strategy, and training she is hesitating. She said that a month ago, she wouldn't have hesitated (yet, it is likely she would not have had the time to implement). Now she has the time but resources are a bit lighter. There is never a better time than the time you are in, right now.
Grow your business, share your gifts and talents, profit well and regularly. When is the best time to market? When is the right time to invest in marketing strategy, tools, techniques, and training? Now and always and when the right tools and strategy are presented that taste the best for your unique business. This is all about staying in front of your clients and prospects, being top of mind at all times, and eliminated the pain of the business and profit roller coaster. Regular care and feeding of your marketing engine with social media tools, strategy and tactics will ensure that you are able to grow your business in a consistent and persistent manner and enjoy the peace of mind of a continual stream of profits and ideal clients.
As always, your thoughts are welcome and appreciated, please do comment.