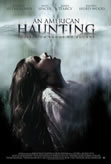 "An American Haunting" –
Sissy Spacek, Donald Sutherland, Rachel Hurd-Wood

Okay, so I saw this on video–I am thrilled I didn't pay full fare at the movies. This was garbage. I am very surprised that Spacek and Sutherland even indulged in this. It chronicles the story of a young girl who is allegedly possessed by a spirit who abuses her cruelly. We are the led to believe that it is actually her father who is abusing her secretly. The same spirit shows up hundreds of years later and before it can wreak havoc, its story is told by a reading of some old letters in the movie and it leaves the present-day mother thinking her ex-husband is abusing their daughter. Very inconclusive, unclear, and certainly depressing.