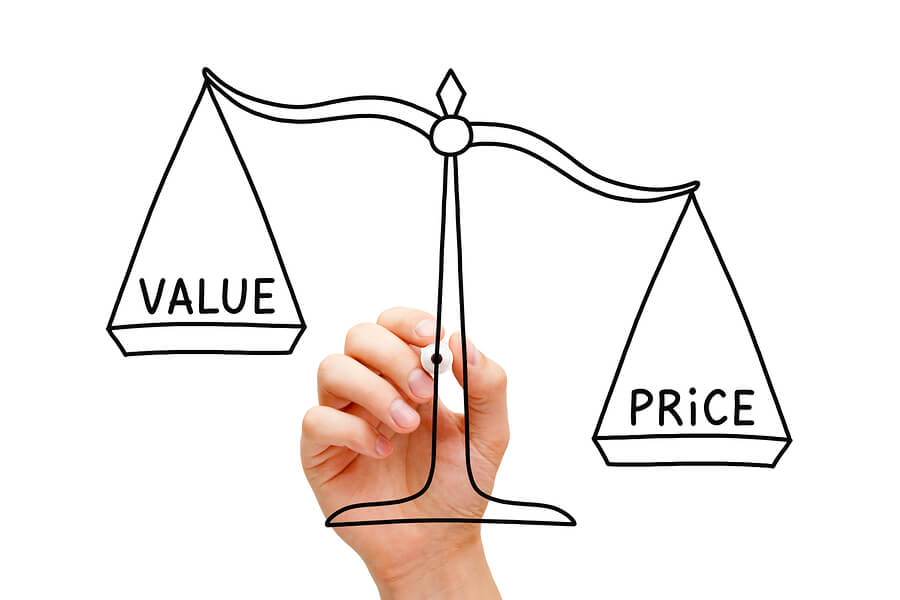 Words are a powerful tool to impact your business growth. Leveraging power words will grow your business and there is no better pair than price vs value.  Understanding the key difference between price and value can add thousands of dollars of revenue to your business bottom line.
Years ago when I was a Purchasing Agent in hotels, we had a policy of purchasing the best quality at the lowest price. This applied to food and beverage as well as furniture, fixtures, and equipment.
The price alone was not the deciding factor or we would have sacrificed on the quality of the goods. Price is only what you pay for a good or service, value is the experience and benefit you get with it. It is the wise buyer who gets a value that far exceeds the price.
For example, you may pay $300K for a new home and it has all the bells and whistles you are looking for and is located in a great school district. The value of the home is not merely the price but is tied to the location and the convenience of buying what you wanted instead of needing to renovate or remodel.  Not only does being in a great school district mean you can have peace of mind that your kids will get a quality education, but also that your home will increase in value (and price) in the future. The future value is likely to far exceed the price paid. The difference between the words price and value is essential.
When you have a health challenge, you can read up on the symptoms for free on the internet, and since you are not a medical professional, the value in that is questionable.  On the other hand, when you get quality medical care, the value is priceless because it can prescribe actions and medication, if appropriate, to bring you back to health and provide peace of mind.
Next time you buy a new car, consider that the price is simply a percent of the actual value of the car. What is it really worth to have safe, convenient, comfortable, private transportation available all the time?  If status is important to you, what is it worth to have a luxury brand and the associations that come with it? Perhaps you need a vehicle to haul both goods and people, what is that ability worth to you? The price is just a percent of the convenience and comfort that you pay.
In business, you may hire a marketing coach to work with you to grow your business and the investment is $25K for the year. The value to you of having that coach on board, as a part of your team, creating a plan with you, guiding your actions, providing resources and connections, and showing you how to generate exponentially more business is well over 6-figures.  The price paid reflects a small percent of the overall value delivered.
Using the word "value" to define your deliverable, instead of making your conversation about "price," will lead your client to a place of investing instead of budgeting for your services and products.
In my work today, mentoring clients in their marketing and providing success strategies, I strive to provide value that exceeds my price by a minimum of 10X. It is why I no longer give away free sessions because no matter how great the value, when you multiply by zero, the answer is always zero.
Make decisions based on value, not on price. And be willing to re-evaluate the value you bring so you can charge a price that reflects your own percent of priceless.