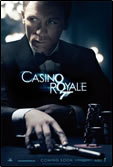 "Casino Royale" –
Daniel Craig, Judi Dench, Eva Green

Yes, I am a die hard Sean Connery fan and have to say that while Craig is easy on the eyes he is no replacement for my favorite Bond actor. There were a lot of really big holes in this production. Dench is quite wonderful as M and is a reason to watch. The greatest disappointment is that Bond actually falls for a woman and is duped. Sorry don't mean to spoil your movie going fun, but this is too absurd. His whole allure and charm are based on his lov'em and leav'em cavlierness. I've always loved a bad boy and betting many other women out there agree with me. It was very disappointing to have him become truly human and emotional rather than our aloof charmer…I won't bother seeing the next one.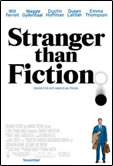 "Stranger Than Fiction" –
Will Ferrell, Emma Thompson, Dustin Hoffman, Maggie Gyllenhaal, Queen Latifah

This is a very unique idea for a film. The writer of a book is actually the narrator, and Thompson does a brilliant job of this in her charming Brit accent. Ferrell is great in a rare dramatic performance. He plays the automaton of an ordinary man with intensity and it is so wonderful to see him become a real person with the intervention of Gyllenhaal and her post hippie ways and genuineness. I know a handful of folks that this should be required viewing, but then I bet they wouldn't get it. Harold Crick is such a great name for an ordinary man leading a totally mundane life that shifts dramatically when his wristwatch takes over so to speak. Hoffman and Latifah are icing on this cake.