My Birthday! Well this month marks my 45th landmark birthday! That is 45 incredible years of experience well worth celebrating. I am a big believer in making birthdays memorable so I invited 20+ friends to share in the party!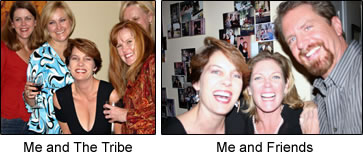 Hot Off The Press! This month is also auspicious as I published my first entire book! Previously I have only coauthored. This one is all me! Entitled Celebrate Your Life! The Art of Celebrating Every Day, it details 100 ways you can turn any ordinary day into a celebration of life. I'm including a synopsis in this issue. Right now I am working fervently on distribution, so far I am just selling through my website, www.melissagalt.com. But I expect to be listed on Amazon.com in upcoming weeks and likely a few other sources. I will keep you posted.
Great Gift Idea! The book is a great fit for holiday gifts for friends and family and my team is delighted to mail them directly to your gift recipients with a note from you. I am also autographing all copies! Card decks of the top ideas in the book are also in progress and will be out after the first of the year.
Jewelry Artist! I ran into one of my loyal readers recently here in Atlanta and commented on a dynamic pair of earrings she had on. Sally shared that she is now making jewelry! Please if you are doing something special in your life and want to share it, let me know. Anyone who knows me, knows I only buy original jewelry and art and was delighted to find a new talent.
Live well and beautifully,
MG