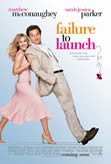 "Failure to Launch" –
Sarah Jessica Parker, Matthew McConaughey, Kathy Bates, Terry Bradshaw, Zooey Deschanel

I think Parker is on target with her theory of how to capture a man. (Of course, I am not trying to capture one so not employing these winning wiles!) Bates and Bradshaw are the frustrated parents of thirty-something McConaughey who is still living very happily at home. And why not? With no rent to pay, his laundry taken care of, his meals cooked and generally any aspect of his life taken care of that is needed, why would anyone leave!? He hangs with a bunch of buddies in the same boat. While he dates regularly, as soon as anyone gets close he takes them home for a night and none are able to get past his living arrangement. Nothing like parents for relationship control. Enter Parker with a unique service guaranteed to unseat the errant son in 3 months, with the tried and true program of feigning interest in one of his pursuits, having an emotional crisis (I've never found this to work at all!), and letting him teach you something . . . and well, you'll have to see the movie to learn more. It was light, fun, campy and a great cast. Deschanel steals her scenes and has a promising future. Bradshaw gets his "naked room" finally!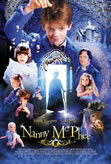 "Nanny McPhee" – Colin Firth, Emma Thompson, Angela Lansbury, Kelly MacDonald

I had no idea Emma Thompson could at one time be so unappealing, but so winsome. She can! Firth is the beleaguered widow with too many children and no time for them. He has been put in the compromising position of needing money and support from his Aunt, brilliantly played by Lansbury. She in turn has forced him to promise to marry within thirty days or will cut him off and the children will be farmed out to foster care. Needless to say his pickings are very slim. His children are a rambunctious lot, rather entirely out of control, until the magical Nanny McPhee shows up. Her motto of "I will be here when you need me, but not when you want me. And I will go when you want me, but don't need me" is quite real and right. The delightful housekeeper played by MacDonald weaves a bit of magic too. And best of all in this fairy tale, there is a happy ending. Yahoo!