I recently road tripped to High Point to check out two days of seminars presented by FFI (Fine Furnishings International) magazine, a trade publication geared to the high end of furnishings. The industry inspirations event included an impressive roster of speakers featuring renowned interior designer Barry Dixon, and luxury marketer expert Steve Noble.
It was truly a visual feast to see Barry Dixon's portfolio of the last 15 years unfold before us. Steve Noble shared some crucial marketing tips and trends, appreciated by all in attendance. The burning questions these days seem to be that you have a choice as a designer to either take the low road and be a "shopping service" or take the high road and provide unique, custom experiences of exclusivity to your individual clients. I'm on the high road!
Sherwin Williams provided fan decks of their 2006 color trends forecast with an emphasis on "sumptuous browns, haute chocolates to satisfy your cravings; great escapes that beckon to far away places; relaxed retreat where tranquility waits; natural living; and fifth avenue where modern glam sets the scene." Color more than almost any other design element is about mood and marketing. The names are devised to evoke an experience, a memory, a fantasy, and it works! If we all learned how to romance interiors as well as the color marketers, the world would be a much richer place.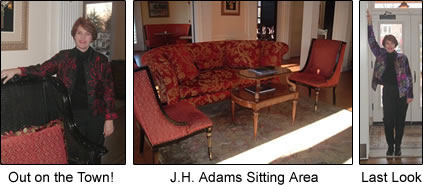 This trip I indulged in a wonderful bed and breakfast, the J.H. Adams Inn, registered with the National Historic Society. The house was originally the home of J.H. and Elizabeth Adams back in 1918; it is elegant with stunning architectural details, graciously proportioned rooms, and the finest amenities. They are located at 1108 N. Main Street in High Point, easy access to the mart buildings and design center. I wish I could have stayed a week!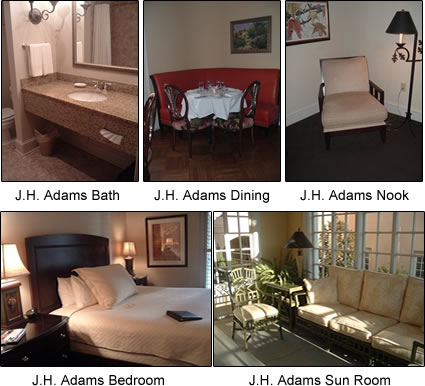 Live well and beautifully,
MG