While I've always said it's not about how many followers you have, it's about how hot they are, the challenge is that people are unreasonably impressed by larger followings and they forget it is a meaningless metric. A large following can be gained for a price and can be entirely hollow made up of bots and fake followers, but no one goes that far to check. So you want to grow your Instagram following.
More followers gets more followers, there are plenty of people on Instagram that will follow you automatically when you pass their mental milestones of followership. More followers means more visibility and potentially greater opportunity to garner clients. And let's face it, when you grow your Instagram following, you get an ego boost. It feels good to be followed by more. Let's make them real and skip the bots.
I came to Instagram late. While I could have jumped on as early as 8 years ago and would be huge now. I waited, took a few business path detours and finally got up on it actively, in the last year.  I'm letting you know so you understand where I am in the Instagram journey and what I've learned.
#1 MAKE IT FUN
When I climbed on Instagram, it was a total chore for me. I didn't look forward to it, I dreaded it as one more social channel.  And I knew that resistance was going to turn into not doing it.  So I found a way to make it fun.  When something is fun, you'll automatically want to do it and look forward to doing it. I know how (so do you) to make something fun. I now look forward to Instagram and in fact allow myself the luxury of looking at it late night and first thing in the morning as a creative boost and inspiration in my day. This will help you grow your Instagram following organically.
#2 USE THEMES
This works for me BIG TIME! I started at Valentine's with red, then morphed to pink, then decided to do a new color every week. My feed is flipping GORGEOUS (go look if you don't believe me or aren't following me. MY INSTAGRAM.) Now, during this time there have been other events that I wanted to include. For example, the week of the lunar eclipse, I shifted theme and did an entire week of all things lunar for the home. It was a blast! And I took a few days to do the Oscars (my mom did win one back in 1946.) It's far easier to grow your Instagram following when you have it planned out.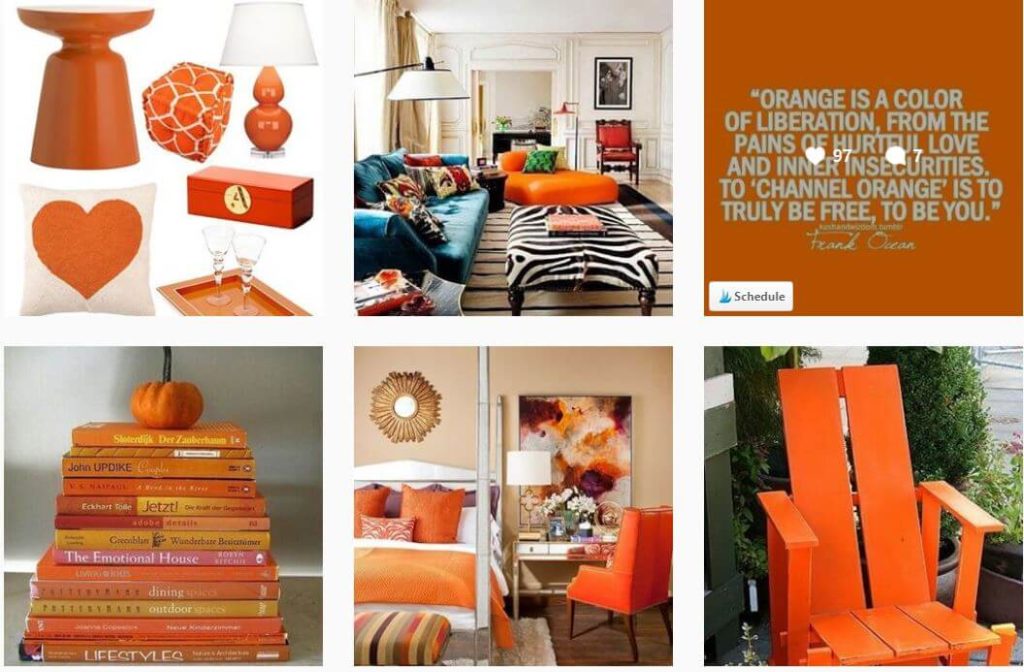 #3 PLAN YOUR FEED
I've not only used color as my theme, but I create Pinterest boards for each week's theme so it makes it super easy for me to have all my images in one place. (This includes images from my projects and those I've taken while traveling, at market, and on jobs.) And, yes, I do drill down to give credit, saying it came from Pinterest is not credit.  For each color I include doors, stairs, fashion inspiration, cars, room interiors, individual furniture pieces, mood boards, and more. The key is that I do all of that in advance so I'm not scrambling ever.  Scrambling won't help you grow your Instagram following.
#4 LEVERAGE COLOR
Anything with rich color gets more eyeballs.  I know you may be a neutral lover, and that's fine (I live in neutral with pops of color because I work in color for my clients.) The key is to make your feed vary so it captures interest. So while you may be sharing overall interior shots that appear neutral, give us a close up on that colorful pillow every now and again. And if you love color like I do, it becomes easy.  Color is emotional and it's instant eye candy and will totally grow your Instagram following when done well.
#5 MIX IT UP
While I have found that interior shots are often most popular, I deliberately mix it up because they are also the most difficult to see in such a small format. Include detail shots, close ups, just one item pulled out and featured. Every room can deliver 5-10 shots no matter how small it may be. Before Instagram, I didn't have my photographer capture details,  we just took a couple of different angles or only the best angle. Now we amp it up with a series of images that tell the story of the whole room. Instagram wants that.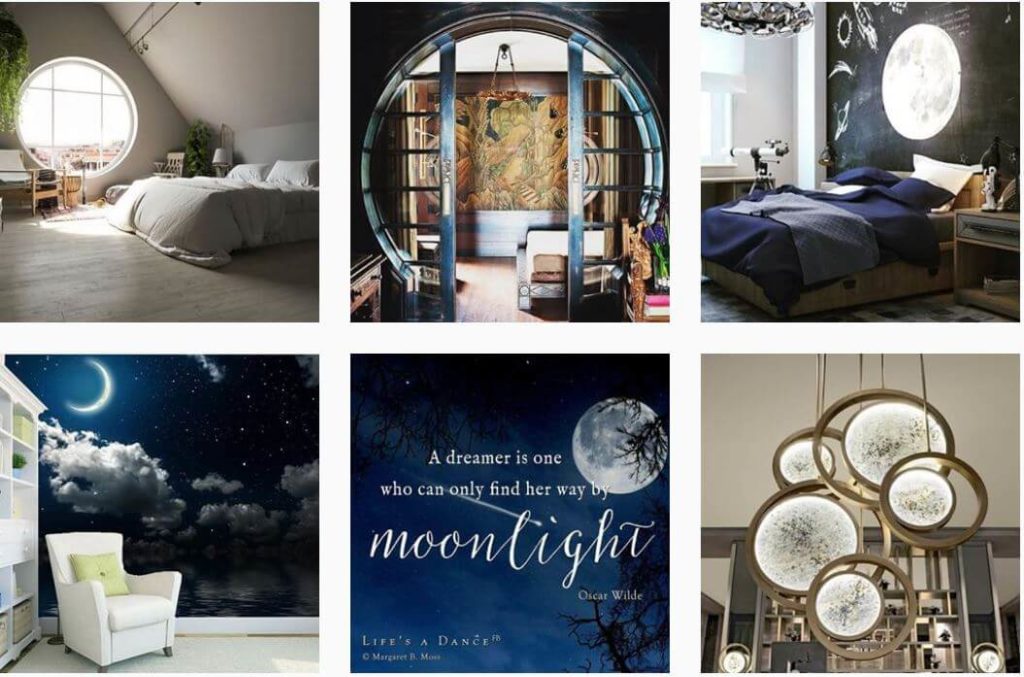 #6 INCLUDE QUOTES
Quotes get attention, and they don't have to be yours. Always give attribution. And if you can share these on a timed basis they can really enhance how your grid inside Instagram looks. I have  tried  an every fourth or fifth post being a quote, I'm not consistent. It's a work in progress.
#7 GET PERSONAL
I'll confess right here, this is the hardest for me. I'm not much of a selfie taker (I think I did 12-15 last year in total.) The feeds I gravitate toward have a personal feeling and there is either a face, a full shot, or a pair of shoes on a rug a couple of times in every set of 9 images. Clearly, I need to work on this! (Full transparency here.)
*MUST USE TOOL (that makes it all possible)
I couldn't have gotten where I am with Instagram without scheduling. And I am not a fan of Hootsuite or MeetEdgar. I am a fan, and rabid referrer of this TOOL, and yes, that is an affiliate link and they will give us each $15 if you use it. (Not just me, they reward us both!) I sit down weekly on my laptop with my big ass monitor and full keyboard and take 1-2 hours to set up my week. It rocks! Then I devote time every day to engagement, occasional stories (my weak suit), and connections without sweating "what will I post next???" This will totally help you grow your Instagram following.
Don't make Instagram hard, have fun with this let your personality and style lead the way, and follow the tips and tricks I've shared here. Get the scheduling tool I've shared, it's totally saved my Instagram experience by allowing me to use my full keyboard, the comfort of my office, and big monitor to make this work. It's not phone only anymore.