Okay, now at risk of offending someone, this was truly bad design. It is shocking to me what money can't buy! I know it is supposed to be original to Elvis and it likely is, but that is even scarier. It never evolved, the interior didn't keep up with the times, and it isn't even a good historic note as it doesn't represent any one time or look but instead a hodgepodge of many.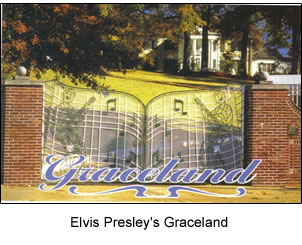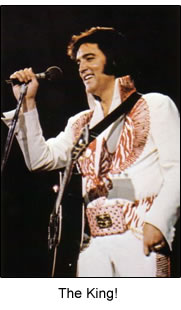 It does succeed in showcasing the effects of excess, from the green and brown shag carpet that dresses both the floors and ceilings of the notorious jungle room, to the yards and yards of busy cotton print that turn the pool room into almost a haremesque dwelling. At least his parent's slept well in their purple bedroom (purple is known to induce sleep.) This was an adventure and I'm glad I saw it. I was surprised at how small the house felt, but guessing that was a product of the times and the fact that Elvis never did buy bigger later.

My favorite had to be his outrageous fur covered bed with built in stereo in his dressing room. I'm not sure why he needed a bed in his dressing room, but this is too fab.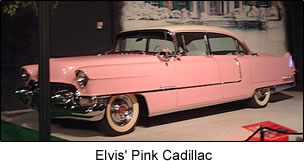 Checking out his wealth of automobile and bike pleasures was almost more fun than the house. These were true design delights down to the often gold trimmed interiors. The pink Cadillac was reputed to be his Mother's favorite so he never let it go, otherwise he was as fond of a fast ride as much as any young man.
Travel well and beautifully,
MG