I can't believe that I used to work here. Granted it was some 15 years ago, but this place has only grown! It was a little disappointing without the visual and auditory delight of Lloyd Lindroth and His Lovedrops.
The Liberace of Harpists, Lloyd used to do two shows daily on his harp while the fountains below danced, swayed and lit up to a bevy of bright and colorful lights and lasers. The lasers were the key, they made each fountain look as if it was topped with stars. Ahhhhh. Now Lloyd is passed on and they are using canned music with lights but no lasers. Just not the same…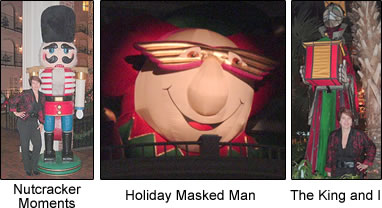 The garden gnomes have morphed to elves and the giant snowflake lights have been replaced by showers of lights in the conservatory. Still it is a magical stroll after dark and before dinner. Giant nutcrackers grace various entries as do super size kings on their way to Bethlehem. The BIG tree rivals that in Rockefeller Center in Manhattan, Santa was closed for the night, so I managed a moment as the imaginary Mrs. Claus.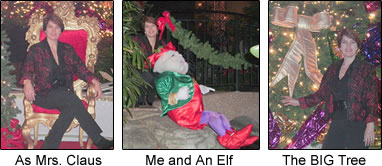 My next holiday lights will be Callaway Gardens. I missed it last year, thinking that the Lights at Lake Lanier would be an acceptable alternative. Nothing beats the nutcracker playing in the gardens as you drive through with moon roof open, and a myriad of endless light shows open up before you in sweet succession. WOW! Bring your inner child out this holiday season, find a light show to enjoy . . .
Travel Well and Beautifully,
MG