As an interior designer you may be reluctant to raise your rate because you fear you'll lose current clients, and will fail to attract new clients. In reality when you do it right, a rate increase reinforces your value and attracts a higher quality of client.
Regardless of how you charge, you can raise your rates.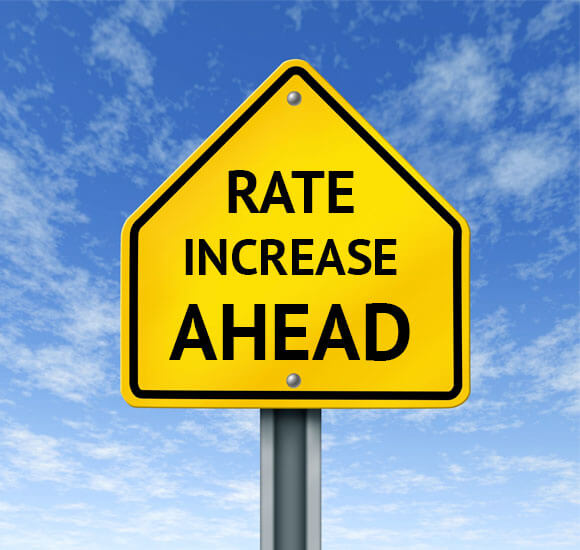 If you are hourly, increase it. (And I don't recommend hourly, but that's a topic for another time.)
If you are by the square foot, boost it.
If you are using a value based fixed fee, grow it.
If you are percent of project cost, enhance it.
Get a Cash Windfall When You Raise Your Rate
First, put together a client notification.
Give them the opportunity to pay you upfront for work to be completed in the next 3-6 months (longer if you want) at the old rate.
This can get a windfall of cash into your bank account, funds you can invest in your marketing, in reducing debt, in a new hire, in coaching.
Reaffirm Your Value so Your Client Knows They've Hired the Best
When you notify your client, explain that you haven't raised your rates in X time frame (the most often I hear is 5 years which is BANANAS!)
And that with each passing day, week, month, and year, you enhance your design expertise, you have better resources, you are more experienced, and your value is significantly greater.
(And that's all entirely true!)
Raise Your Rate to Up Level Your Design Clientele
In a perfect world, you don't want to be hired based on price, but based on portfolio, personality, and personalization (customization).
Those clients who balk at a rate increase, either don't understand your value or aren't willing to step to a higher level of design.
It often has nothing to do with their ability to afford it, but instead it's their mindset of what they'll invest in design services.
Focus on finding clients that have an unlimited mindset (yes, they do exist!)
In 20 years of business, I've lost only one client and it was over a $10 increase in rate. (I recommend a minimum $25/if hourly.)
That was in my first year in business and it was someone who simply wanted a deal. It scared me at the time, but I quickly found new clients that gladly paid my rate, validating it.
I guarantee you there are designers out there who charge more than you, in some cases, a lot more, and they have plenty of business.
Raising your rate is as much strategic, to earn more in less time with a higher caliber of client, as it is about your mindset and being willing to step to where you've not been before.
And if that is something you want help with, then take a look at Profit Shots, HERE.
This is my way of providing bite-sized coaching and consulting on any aspect of your design practice you want to work on from now until the close of the year.
It's a flat fee for unlimited "shots" of support, guidance, coaching, and resources.
Each session will deliver you a single action step, not 100 (you won't do them.) You take action, you book your next shot.
Momentum builds and you'll see quickly the power in incremental steps that lead to a QUANTUM LEAP.
Some call it Melissa-in-Your-Pocket, and that sounds like what it is, if your pocket is your phone.
I'm just inside looking forward to welcoming you to more clients, more impact, and more income without the stress, without the worry, and without the scramble. This is the ideal way for you to take the guess work out of your design practice growth.
Save
Save
Save
Save