Well, I just wrapped this up. There were two showcase homes this year, next door to each other. I designed and furnished the entry and stairwell of the Bill Grant home. I opted for a well-collected feeling with art borrowed from two of my favorite galleries, The Reinike Gallery and The Gardner Gallery, both in Buckhead.
I got some terrific Asian pieces from Eclectic Finds in Roswell, along with a host of wonderful accents and accessories. Castleberries Treasures for your Homes even loaned me a couple of lolling chairs and an elegant settee. Roswell Rug is always my choice for reproduction Persians and provided a beautiful assortment as always. It was a successful two weeks, and the houses raised money for a local charity.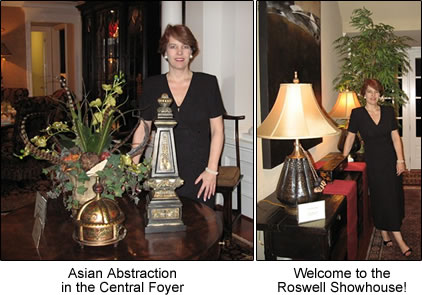 Remember, Art Is Inspiration For Daily Living! Sometimes my travels don't take me farther than my own backyard. . . be sure to check your neighborhood and city for fun events that inspire!
Live well and beautifully,
– MG