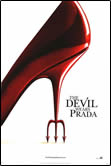 "The Devil Wears Prada" – Meryl Streep, Anne Hathaway, Stanley Tucci, Simon Baker

Streep is fabulous as the myopic driven editor of this fashion setting publication. She is a brilliant icy cold with glimpses of the heart beneath so fleeting you wonder if it is really there. Tucci is incomparable, it is rare that he isn't stealing the scenes he plays and a good chunk of the movie. As the devoted and talented stylist, he has given his life and his heart willingly in desperate but ever elusive hopes of making it on his own. Hathaway masters the art of frump transformed to fabulous with a bit too much ease, but when one has the wardrobe of a thousand brightest and biggest fashion designers to choose from, how can you go wrong really. From her Audrey Hepburn big eyed gaze, to eminently stylish in all shades of black, those that say clothes don't make the lady, haven't seen Hathaway. Baker has possibilities but lacks depth, maybe it was just the glibness of his character, but I have difficulty imagining him in anything of depth. How can setting this in NYC and the romance and divineness of Paris ever go wrong! It can't. I didn't read the book, but loved the movie. SEE IT!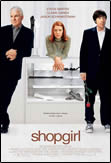 "Shopgirl" Steve Martin, Claire Danes, Jason Schwartzman

This was pretty cool, some incredible lessons and unfortunately the men that need to learn them won't go see it with that title (at least I doubt it!) Danes has definitely been prettier ("Family Stone") but shines in this light drama (I'm searching here…) We are initially thoroughly disgusted by her date with Schwartzman, what a loser. And it is easy to get caught up in the romance with millionaire mogul Martin, despite the "warning" signs. We ladies don't often listen as well as we can! But both Danes and Schwartzman do a lot of maturing in this short film, finding themselves, finding their passions, and rediscovering each other. This was as good as many foreign films with a reality coating that Hollywood usually denies. Good for Martin!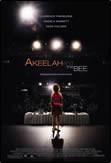 "Akeelah And The Bee" – Laurence Fishburne, Keke Palmer, Angela Bassett

The title is kind of lame, I agree, but the movie isn't. The last time I saw Fishburne and Bassett was the Tina Turner Story so it was hard not to imagine them somehow getting together in this. But fortunately, the Director, is his wisdom, didn't make it about the grownups here but instead about how tough adolescence can be and how the lessons learned are invaluable throughout life. It is so easy to get caught in the traps of adulthood – responsibilities, financial concerns, family issues and much more – often it is difficult to see what is right in front of us. Keke Palmer does an excellent job in this and has a promising future as a serious actress if she keeps this up. She was intensely real as an unknown and held her own against the stars present. A wonderful metaphor for life and how not to be afraid of the opportunities presented but to go for it with gusto and find that we have more supporters than we ever knew. Everyone is always looking for a mascot or a mentor, it is up to us to be there!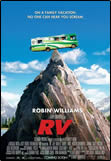 "RV" – Robin Williams, Jeff Daniels, Cheryl Hines, Kristin Chenoweth

I can't decide if I was generous here with my rating. I love Williams but haven't seen him in anything great in a very long time; this was not the exception I had hoped for. RATS! This was almost one of those flicks that you get the impression that they were all out at cocktails one night and said lets go have a party on screen and get paid, except there wasn't enough talent to make it work! The story is too old, overworked executive having lost sight of his priorities and family and gets lesson in getting it back. It had typical William's humor, lots of physicality, but reverted to literal crap much too soon. Predictable with guffaws is best I can say. Missable.