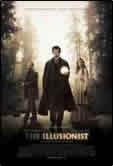 "The Illusionist" –
Edward Norton, Paul Giamatti, Jessica Biel, Rufus Sewell

This was brilliant, a fantastic illusion of adventure, romance, heros and heroines. Norton is at his finest, intense, mysterious, and yet transparent. Biel is a lovely foil for his plot. Giamatti shines as the boot licking police inspector at once intent only to get ahead no matter the cost and then caught in the web of the most masterful Illusionist. With royalty, scoundrels, an overthrow, missing jewels, and much more, you can't lose with this film. This was refreshing in its originality. Stunning costume design, well turned period set design, an overall terrific production, all too rare these days. DON'T MISS THIS!!!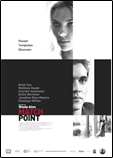 "Match Point" – Scarlett Johanssen, Jonathan Rhys-Meyers, Emily Mortimer, Matthew Goode


Woody Allen directs this dark tale of sex, murder and money. Nice to see him back in the driver's seat with a surprisingly mainstream offering. Rhys-Meyers plays the tennis pro seeking a career change and finds it in a family that can offer him position, financial means, and a wife to boot. Of course, this isn't nearly enough for him – he is drawn to one of his kind, a down on her luck wanna be actress Johanssen that dates his soon to be brother in law. Thinking that they will marry he settles for the sister, and an affair with Johanssen. His obsession trips him up. By the time she is available, he is well married and gotten accustomed to a life of comfort and means. She is still struggling and becomes obsessed herself with him and the empty promises he continues to make. He wins this game, but you'll have to see it as I won't spill the beans. Dark, a bit tortured and sad for all the illusion that is created and the innocent that are impacted. But then is anyone truly innocent . . . Well done!