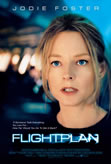 "Flight Plan" –
Jodie Foster, Peter Saarsgard, Sean Bean

I enjoy Foster so much more in movies of substance and drama rather than mere hype and mystery. This was very weak, predictable, sort of felt beentheredonethat. Yes, she is in a state of shock having just lost her husband, her daughter grieving as well. Since she is a top notch aircraft engineer/designer it makes sense she is flying on a state of the art craft when her daughter seemingly disappears. Yet she is forced to consider madness as no one can verify her daughter's existence. Of course a maddened Mother is a force to be reckoned with and Foster is not less than that. A dastardly plot of greed and murder is uncovered and all is made well. Sorry did I spoil it?? Don't bother.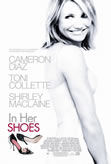 "In Her Shoes" – Shirley MacLaine, Cameron Diaz, Toni Colette, Mark Feuerstein

WOW! I loved this. Collette is fantastic, real, and relatable as the ugly duckling that becomes the swan. Her sister meanwhile, the sleep around Diaz, learns the meaning of responsibility and the gift of family. MacLaine makes it all possible and has only gotten better with the years. Don't miss it for family, for friends, for anyone who has loved and lost and loved again. This is heartwarming and gut wrenching all in one.