Mason City and Forest City, IA
Well, with the unfortunate forecast of ice and sleet and the Iowa/Minnesota game on, turnout wasn't great for the Home Show. I did get a wonderful chance to see the sights though! A spin through the Surf Ballroom, where Ritchie Valens, Buddy Holly, and the Big Bopper all had their last fateful concert, was a real treat. The beach view murals glowed blue, and pineapple stencils adorned the lobby walls in addition to an amazing photo gallery of all the bands and singers that have played the place: Bon Jovi to Waylan Jennings to Tommy Dorsey.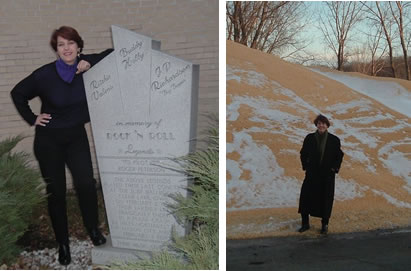 Of course, I had to have a picture in front of a mountain of corn; yes, those are corn kernels in that golden mound behind me. It was a bumper crop year and there isn't enough storage in the silos, so tons are left out to be rewashed, dried and eventually sold.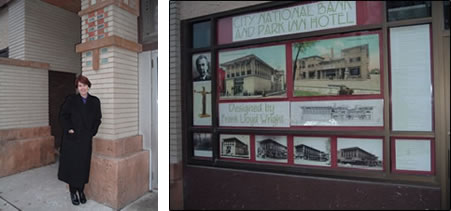 Mason City sports the Park Inn, an original design by great grandfather and in its sixth plus year of renovation. I hope to return to stay when it is complete! Overall it was a terrific trip, met lots of wonderful folks and the hospitality was delightful.
Minneapolis, MN
Well, I'd never been to Minneapolis before and this was just a quick stopover. I had to grin when I looked out the airplane window and saw snow! My friend had cautioned me that winter had arrived, so guess I finally saw what that meant. I stayed at the Sofitel and would put it against a Ritz-Carlton any day. The room was incredibly spacious, well appointed with a crisp contemporary flair. The public spaces had a lot of color but not busy with pattern well placed. The food and service were outstanding. I've included a few pictures here. Yes, I evaluate design wherever I go!!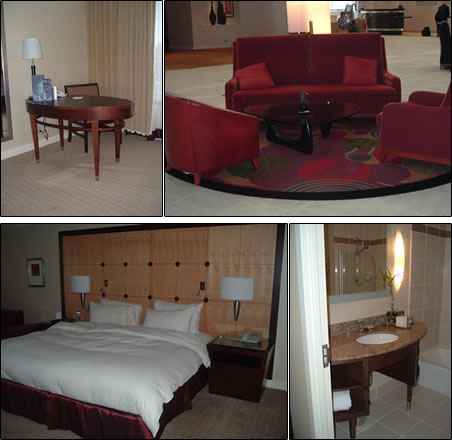 Travel Well and Beautifully,
MG