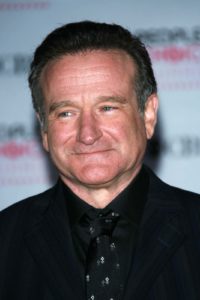 When I read the headline of Robin Williams untimely death, I was actually standing in front of an audience, doing a live online training. It flashed across the top of a site I'd searched and I remember feeling gut punched and that it couldn't be real.
He was the same age as my mother, the late actress and Oscar winner Anne Baxter, when she died 28 years ago from a sudden brain aneurysm. She'd been on her way to a salon, a short walk in NYC, when she collapsed and never came to.
It was brutal to have the nightly news give updates on her condition to a world of fans. I didn't want to share her with anyone except family. I imagine with our paparazzi populated age, it is even more difficult almost 30 years later, for Williams's family.
Curiously, I noticed today that Williams and my mother were both in a movie together, albeit she was featured posthumously in a clip from the epic classic "The Ten Commandments" with Charleton Heston and Yul Brynner.
The movie with Robin Williams was "To Julie Newmar With Love Wong Foo," featuring Patrick Swayze, Wesley Snipes and John Leguizamo as drag queens. I think Mom would have gotten a grin out of being featured as a sex symbol in her role as Princess Nefertiti.
Robin Williams was an enormous talent and we are so fortunate to have his brilliance forever immortalized in film and television archives. He hasn't truly left us, just transitioned to another audience and left the darkness he felt behind.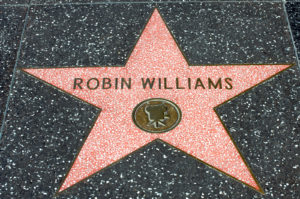 The memories that stand out the most for me are here . . .perhaps they'll be your favorites too or remind you of what is.
He showed us how absurd our idea of normal often is. (Mork and Mindy)
He taught us the importance of feeding the human spirit in the most desperate of times. ("Good Morning Vietnam")
He demonstrated that the best medicine truly is laughter. ("Patch Adams")
He let us off the hook for our personal histories and our stories, telling us "it's not your fault." ("Good Will Hunting")
He inspired us with his creative depths, devotion and persistence as a parent. ("Mrs. Doubtfire")
He showed us how to bring our imagination to life and live life as the game it truly is. ("Jumanji")
He gave us priceless perspective on what matters most, and showed us how to get over ourselves. ("Club Paradise")
He awakened us from our slumber of being ordinary and gave us the gift of extraordinary ("Awakenings")
He moved us to not just live life but to "seize the day" and embrace each moment. ("Dead Poet's Society")
He demonstrated how frightening obsession can be. ("One Hour Photo")
Perhaps favorite was his performance in "The Bird Cage." My mom had taken us to see "La Cage Aux Folles," the original French film many years before Williams starred in the American remake and did a terrific job. I think mom would have liked it and enjoyed him. I'm sure she's in his audience now.
R.I.P. Robin Williams, thank you always for the laughter you brought, the gifts you gave, the lessons you shared. We are forever in your debt.