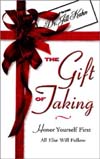 The Gift Of Taking, Dr. Jill Kahn
The premise and truth here is that in order to lead an abundant and happy life it is essential that we each take care of ourselves first. So many of us are caught in the trap of giving endlessly and then we're depleted, overwhelmed, and frustrated—and don't know why. The key is to put ourselves first in our own lives so that we can care and function from the place of a well-tended mind, body, and spirit. I know about being overwhelmed and having Empty Well Syndrome all too well; this is a valuable read.
Magnificent Obsessions, Mitch Tuchman
From the inventor of Gatorade and his astounding collection of Studebaker automobiles, to the aerospace engineer who collects puzzles, to the graphic designer who collects all things stars and stripes, this book is a marvelous compendium of 20 collectors and their unique and wondrous collections. It is an insider view of why people collect what they do, the thrill of the hunt, and what their collections mean to them. If you have more than three of anything — it's the start of a collection, so what is your passion?!