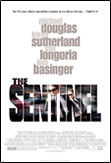 "The Sentinel" –
Michael Douglas, Kiefer Sutherland, Kim Basinger, Eva Longoria

I have to say Douglas looks as handsome as ever. He has definitely been nip/tucked but had the best; I guess Ms. Zeta-Jones is something to keep up with! Sutherland is a well-chosen counterpoint: rigid and playing by the rules until he realizes the rules aren't working. Basinger as the First Lady is a bit disappointing. I've never seen her look unattractive, but she is here — somehow perpetually afraid, fragile as always, and deeply unhappy. Not sure how she attracts Douglas; there is an inner passion lacking. Longoria is adequate as the rooky CIA agent, she is effectively naïve and eager, but hard to take seriously . . . maybe that is the point. The premise is that there is a plot to assassinate the President. Douglas is the seasoned agent through previous administrations that once took a shot for Reagan; he is being framed by the bad guys and proves a distraction until he unravels the truth. Sutherland is one of the top CIA dogs and goes after Douglas until he realizes his error. Douglas and Basinger are involved in a lengthy affair, the only part of this that leaves us hanging at the end.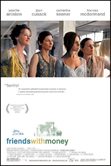 "Friends With Money" – Jennifer Aniston, Frances McDormand, Joan Cusack, and Catherine Keener


Awesome cast of strong ladies with distinct characters and appeal. Aniston's career has really blossomed since she left Pitt. She plays a pot-smoking, former high school teacher-turned maid who is obsessed with a married man she had a brief affair with. She is the only unmarried of her friends and also the only one with no money. All are married, though not necessarily happily at all, with children, and loaded. It is odd to see Aniston as the lone fifth wheel at dinners and such. Cusack fixes her up with her personal trainer—a complete cad that asks Aniston to pay him for helping her clean the house (helping consists of lying about and going through clients' drawers). Aniston clearly has no boundaries and is a bit pathetic, but it is three cheers when one seemingly unemployed client turns out to be Prince Charming and . . . well, you'll have to see it.