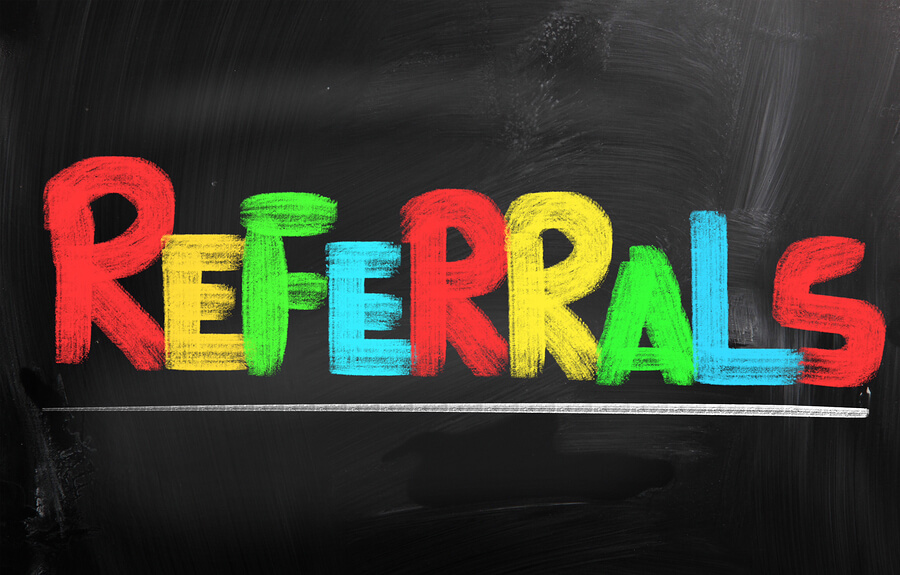 Interior design referrals are the life blood of your business.  While they will happen organically, you can do a lot to ensure they happen on a regular, predictable basis.
A cautionary tale about how NOT to lose interior design referrals…
I'd just completed a couple of rooms for a client and his wife, both attorneys with a young daughter, in a lovely home.
Their firm was hosting a Christmas party and they'd volunteered their home.
They asked if I could do the layout and tabletop decorations and I agreed enthusiastically.
This job was a little unusual because the husband was the lead. I really only met his wife once. Both of them were busy in their careers but hers was given priority. (This matters, keep reading.)
We stored their entire living room furnishings in a truck for the weekend of the event.
The tables were spectacular, sporting three feet tall martini glasses with floating candles.
They sent me a lovely email following the event saying how successful it was and how everyone had a great time.
Then they gave me the not so good news…
Many of the guests (attorneys, one of my favorite markets) had requested my card. But, (drum roll here) they asked the wife, NOT the husband.
She didn't have any of my cards, he did. I knew that with the crush of the season, no one would remember to follow up and so no interior design referrals came through.
(Yes, I was well compensated for the party design and decoration. It just would have been awesome to have a couple of new clients come from it.)
OUCH!
Future events, I leave a tasteful tent card with contact on the table for interior design referrals  (not a business card, that's tacky.)
Clients are fine with it because it makes the referral elegant and easy.  They are thrilled to refer because it's a compliment to the success of the party and décor.
Get interior design referrals with ease.
First, as you are working with a client and they are appreciating the results of your talent, ask. Let them know how much you enjoy working with them and ask if they have friends, colleagues, or family that would appreciate your services also.
The key in asking for an interior design referral is to make it about the client, not about you. Make it about how great they are to work with and you'd love a couple more clients just like them. (If you say 10 more, it sounds like you are desperate.)
Second, create a reward system for interior design referrals. Most clients don't need or want a reward, but it's great to say thank you with a bottle of wine, a gift card for dinner to their favorite restaurant, or a pair of tickets to a hot event.
You can also provide gift certificates for your services to clients as a thank you, and that's a nudge to keep them coming back. If you make the certificate transferable, they can leverage that as an easy referral device.
Third, make sure that you are asking for referrals on a regular basis and not just of your clients. Research real estate agents, builders, contractors, and other suppliers who share your market and form a referral network. I've gotten business from all of those folks and often it was unexpected and unplanned. Imagine what happens if you plan it!