Do you struggle getting organized?
If you do, you're not alone. I've worked with many clients who struggled staying organized.
I'll never forget visiting a client for the second time, years ago. It had been six months since our first visit and at the time I'd reviewed all of her samples and provided guidance and selection. 
I urged her to get rid of those that didn't work. After all, samples don't improve with age!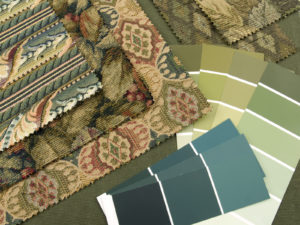 Unfortunately, she didn't heed my advice and had the same old samples hanging around when I went for my second visit. Not only had she not gotten rid of any but she'd not made any forward progress on her project.
When you have samples of any kind, in any business, you need to determine if they are going to work and go ahead and order, return, or toss them. 
Sample hoarding only adds clutter and chaos – not just to your business but to your mind and your personal life. It is like a grand series of open decisions that you haven't confirmed and closed. 
This is noise in your mind as well as actual junk on your shelves, in your closet, around your office, and in your car.  (No you can't skip the car, too many professionals these days make it an office on wheels, what does yours look like?)
You'd be surprised how quickly a few extra samples or clutter can turn into an entire mess. And once organization is out the window, it's hard to get it back. 
That's why it's crucial to prioritize and understand the importance of keeping things organized.
It will keep you sane, and it will also keep your business running at an optimal, ordered, and professional level.
Remember: no one likes an unorganized business professional. The best way to succeed as an interior designer is by staying organized, listening to your clients, and getting serious about your business. Below are some tips on how to stay organized – and check out this blog post for more tips on how to be a successful interior designer.
Here Are Some Tips On Getting Organized
Get Rid Of Your Sample Closet
I'm often amazed at how hard showrooms have to chase my colleagues in design who have a "sample closet." 
This closet is overflowing – dangerously, so in many cases – with out of date fabrics, faded paint chips, expired wallpaper books, no longer available furniture pieces, and more. 
It is a weight around the business – and around you. 
I've never had a closet. Instead I've always kept strictly the samples that are approved and ordered in a neat file for each client.
Stop Being a Hoarder
Think about it: what is the benefit of hoarding those pieces that got nixed, weren't a fit, and will get out of date? This all creates clutter, taking away from the focus of your business and even potentially diminishing your image as a business professional. For more tips on how to be a true interior design business professional, read this blog post.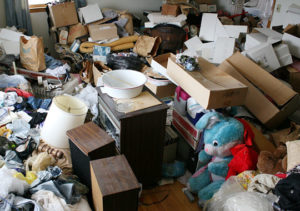 Perhaps it's the advent of the A&E show Hoarders that reminded me of the importance of cleaning out, or just my naturally neat habits. (Yes, I was one of those annoying kids nicknamed a "neatnik" by my sisters.)
Get Rid Of The Clutter
Regardless of whether it's the start of your year or someplace in the middle, make it a goal to get rid of the clutter and ditch the chaos – you'll find yourself inviting new opportunities by the droves (click here for some more tips on how to goal set as an interior designer).
The universe has taught us all that it hates a vacuum, and for every bit of clearing out and cleaning up that you do, more new ways to fill that space will appear.
Oh, and did you know that there is a significant cost involved with samples in every industry? 
So by getting organized and returning those samples you don't need or want to keep on hand for future reference, you will actually help cut down the cost of goods sold and help to ensure that industry pricing doesn't skyrocket due to professional abuses! 
To learn more about how to keep yourself – and your business – organized and set for success, consider one of my keynote engagements, which shows interior designers how to mine the gold in who they are while getting them what they want out of their business at the same time. Click here to learn more.
C'mon now, time to clean it up and clear it out! Stop self-sabotage, and get organized! (For more ways your self-sabotage may be wrecking your business, check out this blog post)
Your comments are always welcome, and I invite you to share stories of how getting organized and letting go of the clutter has opened your life and business to new possibilities. Let me know!
If you're a design professional ready to get organized and take control of your business, speak to me today!  I'm Melissa Galt, an interior design business consultant and business coach for interior designers. I've been practicing design for over two decades and have been an interior design business coach and consultant for over a decade. You want to earn more and I'm here to help you make that happen. Contact me today to start making your passive income dreams in interior design come true!
Enjoyed this article? Here are three more to help you grow your interior design business!
What to Do When an Interior Design Client Tries to Take Control
5 Passive Income Streams for Interior Design Pros
Interior Design Referrals: How to Grow Your Business
This article was originally published on January 9, 2011 and has been updated.