As an interior designer you got into business with a passion to change people's lives through design, and now you want to know how to make more money in interior design. The design landscape has changed dramatically in the last decade. The advent of the internet, design centers opening to the public, online design, and HGTV have inspired many people to dive into their own home design, and others to want only the guidance of a designer, while they do all their own sourcing, contracting, and implementation.
While there are certainly still full service design projects at the top of the market, today there is a wealth of opportunity with design specialties that are more consultative in nature and will show you how to make more money in interior design. Let's take a look at 4 proven strategies.
#1 Interior Design Consulting
This isn't about full service and doesn't include sourcing, installation, contracting, or implementation. Instead, your client does all the legwork and you provide your expertise in guiding and educating them into the right selections for their project. Often, you can manage this easily by Pinterest or Houzz boards, and you can do this locally or long distance. You charge not by the hour but in packages that may focus on specific pieces of design or by the room, think "Finishing Touches" or "Master Bedroom Makeover."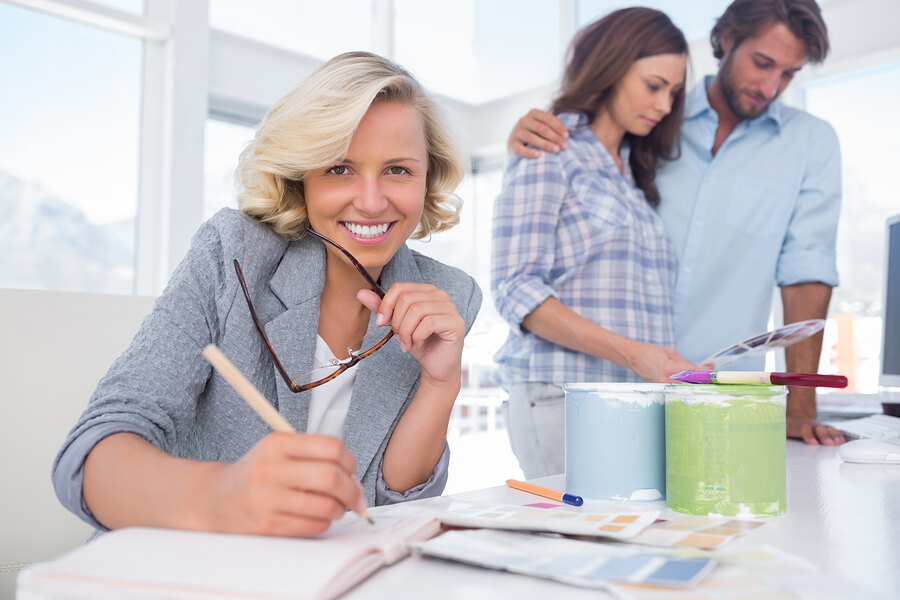 #2 Interior Design Project Management
Only take this on if it's truly a skill you have and a part of design you love (not all creatives are organized enough to do this well.) Your client is willing to make selections and has contractors they want to work with, but they don't have the time or know-how to coordinate, schedule, and put all the moving parts and pieces together so that installation is a success and they get the room or home they wanted. That's where you come in and it can be a powerful path to learn how to make more money in interior design. You can charge by the package or a fixed fee, stay out of hourly.
#3 Interior Design Finish Specialist
Several of the designers I coach love to work with finishes, and are far less interested in furnishings and space planning. This is a perfect fit for you if you feel the same way. When a client is building a new home or doing a renovation, they may not be planning a lot of new furnishings, but need your expertise with finish selections (tile, hardwood, stone, paint, hardware, and more.) You're creating the stage for the furnishings and you can master how to make more money in interior design by marketing this specific talent. This is a good fit for a per square foot charge and be sure to include a clause that covers change orders so you don't lose time to a fickle client.
#4 Interior Design Color Specialist
From the walls to the trim, the ceiling to the floor, the tile backsplash to the fabric sofa, color is a key part of every element in design. You don't have to limit your expertise to paint, but can provide a more inclusive (it's how to make more money in interior design) package. And you can do it locally or virtually online. You can provide boards by mail with actual samples, or keep it strictly online leveraging obvious tools like Pinterest or Olio Board, or explore other inspiration and sample board options. Color is a hot topic and many people want it, but are afraid to make a mistake, help them conquer that fear with your expertise.
Let me know in the COMMENTS BELOW, which of these 4 proven strategies you'll pursue and what lights you up most about your interior design business. And if you want to get my expert guidance, coaching, and support in adding or refining a revenue stream, go HERE…

Save
Save
Save